Wheel Respoking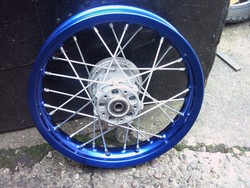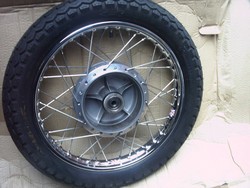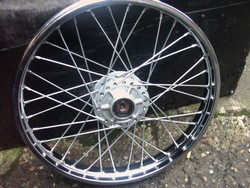 Wheels are the focal point of any restoration. We can restore your wheels to your requirements.
Respoke using galvanised spokes and nipples (standard spokes for many on/off road bikes)
Respoke using unpolished stainless spokes (looks like galvanised but does not rust, popular for classics etc)
Respoke using polished stainless spokes (chrome like finish with no rusting)
Italian chrome rims (economy original style rim)
English chrome rims (rim chromed after drilling with better quality chrome)
Stainless steel rims (no rust rim, used with stainless spokes for the best long term finish)
Alloy rims (valanced or non valanced for trials, classics and motocross)
At Shirebrook Motorcycles we can offer a complete service:
Hubs can be cleaned up during rebuilds, and can be polished/blasted/painted/powdercoated etc
In house fast turnaround for spoke sets and rebuilds
Alloy rims in stock
Car spokes made
Security bolts, rim tapes, tyres, tubes, sprockets, chains supplied and fitted
IMPORTANT - Always speak to the wheelbuilder before stripping your wheel, you may need to take measurements.
Please ring for further details and prices.
We're open Tuesday to Friday 9.30-5pm
Saturday 9.30-5pm
Closed Sunday and Monday